What are dental implants and what is the procedure like?
A dental implant is a metal post made of titanium placed surgically in to the jawbone. Once placed, the post integrates with the patient's bone and this process takes usually three to four months. The implant procedure is usually carried out by a referral to an oral surgeon. Once integration takes place, you are ready for the tooth build up stage which is done here in-office.
What types of teeth can dental implants replace?
A single dental implant can replace a single missing tooth. In this case a single tooth is fabricated and attached to the implant post that was surgically placed. For those missing multiple teeth, several implants can be utilized to give a partial or full denture a more fixed placement. In these cases you do not need one implant for each tooth missing. However, several implants may be needed depending on the complexity of the case.
What are the benefits of implants for missing teeth as opposed to regular dentures?
Dental implants mimic natural teeth and provide much more stability than typical removable partial or complete dentures. With implants, chewing efficiency is increased since they are a more fixed solution. This allows increased access to nutrition and consequently a healthier immune system. With only regular fixed dentures, chewing efficiency can be decreased as much as seventy five percent due to a lack of retention and constant movement.
Because implants are fixed, they are typically a much more comfortable alternative to dentures. There is a significant increase in comfort while both talking and chewing. Because dental implants mimic natural teeth, patients often report increased self-esteem and confidence. Long term studies have shown that with proper care, implants can last twenty years or more with limited complications.
What are the complications of implants?
Studies show that once implants are placed there is a roughly three percent chance that they will not be accepted by your body. In the event that this occurs, implant replacement (often at no charge but depending on the case) will typically correct the problem. For implants that have been in place for many years, there may be a charge to replace them.
Are dental implants right for you?
Implants are all about healthy bone and healthy patients. In some cases, patients may have medical complications that will prevent implants from being the appropriate choice for them. In most cases however, there is no issue with the use of dental implants. Some patients may need a procedure called bone grafting, which is the addition of bone to the implant site (using your own bone) before implants are placed. The oral surgeon will discuss any potential complications with you upon arrival for your scheduled consultation.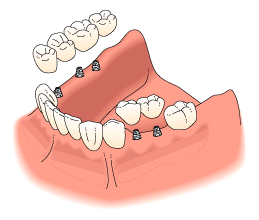 Dental implant care
Care of your dental implants is much like caring for your natural teeth. Proper oral hygiene is important as well as regular checkups. For further information you may call or email us at our office.