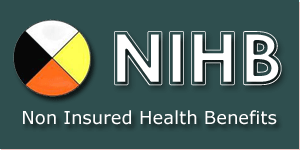 The Non-Insured Health Benefits program (NIHB) is available for Canadian First Nations and Inuit people. It is provided by the Canadian government and if you qualify, they will provide you with an identification card.
Dr. Steve Mocrae accepts the Non-Insured Health Benefits (NIHB) program
Dr. Steve Mocrae is happy to take care of First Nations and Inuit patient's dental needs. As a dentist in Barrie for over thirty years, the team at our clinic are very familiar with the program and would love to help address any questions you may have.
The NIHB program completely covers checkups, fillings, x-rays, basic cleaning, root canals, extractions, crowns and dentures. Crowns, root canals and dentures require prior approval with the program. The program providing the insurance decides what will be approved on an individual need basis.
Dr. Steve Mocrae uses the same high quality materials and procedures for all patients
Regardless of your dental coverage, we treat all patients with the same high quality service they have grown to expect from our clinic. All appointments are also booked in the same manner.
In our clinic, we love children
As a dentist with nine children, Dr. Steve Mocrae understands that parents are looking for the best care possible. At our clinic, we take great care of your child's needs. If your child is particularly anxious, we also offer sleep dentistry so that your child can rest easy during their visit.
Sleep dentistry is also available for adults on the Non-Insured Health Benefits program
If you are an adult who suffers from a physical or mental disability, or if you have severe dental anxiety, we also offer dentistry while asleep for you. This requires pre-approval through the NIHB program, but if approved we will be happy to offer the service. It is typically fully covered when approved for our patients.
If you are part of the Non-Insured Health Benefits (NIHB) program and would like to set up an appointment or have questions, please feel free to contact us.