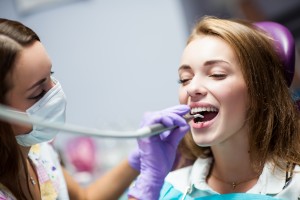 Dr. Steve Mocrae is a dentist in Barrie who is happy to accept new Ontario Disability Support Program (ODSP) patients. This program aims to help provide dental services for those who have been approved for the program due to disability. This page will serve to answer some of the common questions surrounding the program.
Does Dr. Steve Mocrae accept the ODSP program?
Although many dentists in Barrie do not accept the ODSP dental care program, Dr. Steve Mocrae is a dentist is happy to take care of ODSP patient needs. Getting started is as simple as calling and scheduling an appointment. Just don't forget to bring your ODSP card with you for your appointment.

What services are covered for myself and my children?
Many basic services are covered 100% by the program. This includes check ups, x-rays, fillings, basic cleaning, root canals and extractions.  If you wish to have dentures, we must first send an estimate to the health unit. They will look at patients needs on an individual basis. Often, they will approve denture treatment and cover approximately 60% of the cost.
If I'm an ODSP patient, does Dr. Steve Mocrae use different materials or procedures for me as opposed to patients with regular or no insurance?
No, for check ups, fillings, x-rays, basic cleaning, root canals, extractions and dentures, we use the same materials and procedures regardless of the type of insurance (or no insurance at all).
Do I have to fill out the insurance form and send it in myself?
No, we will assist you with the paperwork. Simply give us a call for more information.
Are ODSP patient appointments booked differently for Dr. Steve Mocrae's services?
No, we book patients weekly Wednesday through Saturday. Appointments are booked the same regardless of the type of insurance (or no insurance at all).
I have children also under the ODSP program. Does Dr. Steve Mocrae treat children?
Yes, Dr. Steve Mocrae himself has nine children. He takes great care with children's needs. We also have general anesthesia (sleep dentistry) for children who have severe dental anxiety.
Due to my disability, I have a physical condition and/or anxiety that requires general anesthesia for dentistry. Is that procedure available for adult ODSP needs?
Yes, we are a fully certified general anesthesia clinic, and provide full general anesthesia if needed. This is covered 100% by the ODSP program.